The Confédération Mondiale des Activités Subaquatiques (CMAS) is an international diving association founded in Monaco in January 1959 and based in Rome. CMAS International is represented worldwide by various diving organisations. The CMAS is an international umbrella organisation for scuba diving as well as for sports derived from diving, such as fin swimming, orientation diving or apnoea diving.
The CMAS scuba diving training system consists of standardized courses, which are divided into theory and practice. The theory is mainly taught in frontal instruction, while the practice is exclusively taught by instructors in the pool or in confined and open water. At the end of each course a diving certificate (Brevet) is issued, which is recognized worldwide. CMAS is mainly spread in Europe. However, there are clubs and diving schools around the world that train according to CMAS. Some licensees call the courses differently and offer intermediate levels or extensions. The licensees of CMAS are called Federations. There are national federations, which are only allowed to train in their territory and represent the CMAS in this country. There are also a few international federations that are allowed to train worldwide.
CMAS offers a training system with four levels to learn scuba diving. The most important training levels are standardized by the international standards ISO 24801-2, ISO 24801-3 and ISO 11121.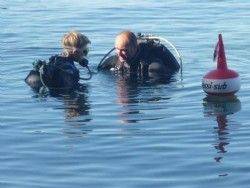 During the discover scuba dive you will be gently introduced to the sport of diving and you will make your first experiences and breaths under the water surface. Up to a maximum depth of 8 meters you will enjoy the impressions of the underwater world up close.
However, before the fun can begin, you will receive a detailed briefing from the diving instructor. Here you will be explained what to pay attention to and how the systems work.
And then it starts...
Price: 61,- € (1 dive) or 95,- € (2 dives)
The CMAS *-diving certificate you receive when you complete some additional lessons with and without diving equipment to the i.a.c.-Open Water Diver.
Requirements:
proof of swimming ability
valid diving medical certificate or health declaration
at least 14 years old
Course contents:
The CMAS* course includes the complete i.a.c. Open Water Diver and additional exercises required by the CMAS.
These are:
1 additional dive under difficult conditions (deep diving, poor visibility, etc.)
extended exercises in confined open water
extended exercises in open water
additional inspections without diving equipment (apnea)
Price: 499,- €
(incl. rental equipment, plus certification: 59,- €)
The CMAS** Brevet (diving certificate) can be obtained if you complete some additional lessons in theory and practice in addition to the I.A.C. Advanced Open Water Diver.
Requirements:
proof of an OWD-Brevet
proof of CPR course not older than 1 year
25 dives, of which at least 10 between 15 and 25 meters
minimum age: 16 years
Course contents:
Based on your knowledge from the I.A.C. Advanced Open Water Diver course or the specialty courses orientation, deep diving and 1 further course of your choice, you further refine your theoretical and practical skills and reach the status of an independent diver. Additionally this course includes apnea exercises such as 7.5 m deep diving, 25 m distance diving and 45 sec. time diving.
Price: 499,- € (plus certification: 59,- €)
(rental equipment for the duration of the course: 99,- €), excl. CPR/O²/AED
The CMAS *** is the highest level as a recreational diver and the "springboard" becoming a diving instructor. This training level entitles you to dive with beginners. With the CMAS *** you already take over a high degree of responsibility and are a link between diving instructor and diving student.
Requirements:
proof of a Master Diver or CMAS** Brevet
at least 18 years old
current fitness to dive
at least 65 logged dives, of which at least 10 between 30 & 40 meters
Deep Diving
Diving safety and rescue
Night diving
First aid or CPR/O²/AED
Theoretical training:
repetition/deepening of the CMAS** or Master Diver
legislation relevant to diving
diving equipment
diving physics
diving medicine
psychological factors in diving
dive planning & dive management
Assessment of environmental conditions / environmental influences
diving with inexperienced divers
Environment
Practical training:
60 sec. time diving, 45m distance diving, 10m deep diving
60 min. time snorkeling with at least 1500 meters distance
150 meters snorkeling to a scuba diver at 7.5 meters depth and transport to the surface
fastening lines in 5 meters depth
group tours with beginners
speed controlled ascents without fins
dispensing the second automatic machine to a fellow diver
set buoy and find again
Navigation
Night dive
First aid for water accidents
Price: 699,€ (plus certification 59,€)
excl. HLW/O²/AED and textbook
Please note: You have to bring your own diving equipment for this course!